By: Feifei Lou, Klaus Moschner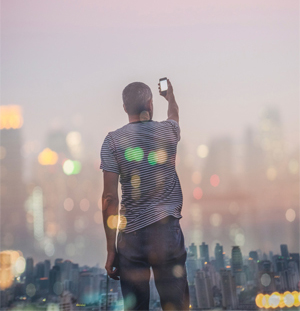 With the evolution of 5G well underway, the world's eyes are already looking forward to the potential of 6G. Demands resulting from innovative use cases, for instance specific requirements from different industries and other user groups, as well as overarching goals like sustainability, are driving the standardization and development of mobile technologies.
With the first wave of successful 5G rollouts having taken place already, focus is still required on reaching the full potential of 5G. Only then will it be feasible to fully consider the needs and possibilities of a sixth generation of mobile network that is currently on the horizon.
The standards for 5G
In March 2015, the first set of end-to-end requirements for 5G was agreed upon with the publication of the first NGMN 5G White Paper. The groundwork was laid for a global, open, and free-of-fragmentation ecosystem, resulting in the first commercial solutions being available today.
Jump forward to July 2020, when the status of 5G was reviewed for another leading message to the mobile industry, published as the second NGMN 5G White Paper. The conclusion of the review was that a number of areas require an increased focus of standardization by organizations and industry players.
Over the last few years, virtualization, cloud, and edge computing became highly important for mobile network operators, promising a new level of agility and scalability. To best meet user demand, operators in the NGMN Alliance strive for global standards with open and interoperable interfaces and APIs, requesting a common operator platform architecture to allow edge computing to be used on a global scale. Also, mobile network operators see that partnerships with vertical industries will be mutually beneficial for both parties, especially when realizing the full potential that 5G can deliver to the verticals.
The NGMN Alliance urges the worldwide research community to focus on the societal and environmental challenges currently seen or expected in the near future, expecting that future wireless systems can help to address these. Research on new technologies to support these efforts is being encouraged, with future network architectures looking beyond 5G and toward 6G.
Looking at the timeframe of 2030 and later, an increased focus needs to be given to further improving energy efficiency, sustainability, social well-being, trust, and digital inclusion.
Creating a greener telecommunications future
Now is the time to rethink how to build, operate and manage networks and devices in a more holistic, smarter, and sustainable way. Sustainability and energy efficiency are becoming top priorities for our industry.
Although watts per bit is much lower for 5G than 4G, with 5G specifications already introducing new means like advanced sleep modes, overall power consumption is a concern that is prevalent within the industry now. However, the scope of this NGMN activity is much broader.
End-to-end services footprint
Lifecycle assessment is the method to assess environmental footprint. It is a promising methodology that allows for the consideration of environmental indicators directly linked to the entire product lifecycle. With this methodology, the project is considering not only the energy consumed during service but also the production and disposal of equipment used to provide the service. This is a more comprehensive view of overall energy spent for providing the service needs to be taken. This is being achieved not only by looking at equipment and hardware in detail but also through considering virtualization, software and functions, network design and artificial intelligence, impacts of terminals, and many other aspects.
Eco-design requirements
A very precise list of requirements—drilling into even the component or material level—needs to be produced. While this is currently being done for gateways, set-top boxes, or Wi-Fi repeaters, a similar effort for network equipment is still missing and would provide comprehensive knowledge on how to reduce the overall environmental footprint.
Network energy efficiency
The evolution to 5G has seen different mobile generations introduce different energy-efficiency features that have allowed control of the network energy consumption. As an example, 5G has introduced the advanced sleep modes, an efficient energy-saving technique. The sleep modes allow a network to dynamically adapt to the traffic demand and therefore to