By: Mayank Choudhary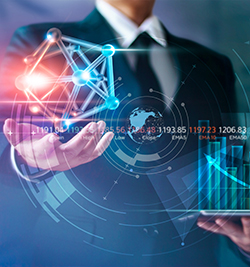 The communications industry has already embraced digital channels for engaging its customers. Delivering exceptional digital service experiences, however, goes beyond launching a mobile app or offering online customer service options. Communications service providers (CSPs) are collecting an enormous amount of data about their customers across channels and networks, but many CSPs don't effectively exploit the data to impact business outcomes. 5G presents new opportunities for CSPs to drive new revenue, but the business success will depend on a CSP's ability to deliver data-driven experiences, enable business model experimentation, drive better collaboration with partners to launch and sell offers, and provide proactive care.
Consider these three key personas at a CSP: the product owner responsible for managing the lifecycle of products and offers, the CFO responsible for the top line and bottom line, and finally the VP of Services. The product owner must drive predictable, optimized performance across the design, launch, management, and support of their products. The CFO must ensure the products are generating revenue and profitability as intended. The VP of Services must arm the customer care agents with real-time insights that can help them better address customer complaints, reduce churn, and reduce the cost of serving the customers.
Each of the personas would immensely benefit from a data-driven approach to better understanding the lifetime value of the products and customers, quickly and prior to launching the products to market to avoid challenges such as offer proliferation. They should be able to evaluate the intended business goals of the newly designed products, so they can do a better job at building products and offers that meet expectations and deliver improvement to their KPIs. After the products are designed and launched, real-time data on churn propensity can help care agents offer relevant and appropriate product recommendations. Together, these help CSPs deliver exceptional customer experience.
Data influences decisions and experiences
The notion of data-driven decision-making aligned with KPIs was explored by Oracle and other industry collaborators as a part of the AI-driven product design catalyst at Digital Transformation World 2022. The catalyst explored how the offer design process could use AI to predict the likely performance of a product against a set of business KPIs (such as revenue, profitability, retention, and more) and enable optimization of the offering, even before it is launched. AI would recommend to the product manager how to tune the offer definition (for example, pricing and bundling) and how to target customers more effectively (such as customer segment and channel) so that it meets the desired KPIs. This enables the product manager or business owner to, for example, make pricing adjustments with elasticity factored in to optimize outcomes such as offer revenue, margin, customer segment penetration, and churn reduction.
Data-driven offer design
CSPs need to target customers' unmet needs much better. The use of data-driven insights enables the creation of more personalized and contextual products and addresses more granular market segments. It also helps reduce the cost of customer acquisition, as well as other sales and marketing costs, including those for customer service.
The insights are driven by a model that uses subscribers' purchase behavior against the existing product catalog to predict the market impact of the newly designed product. The input data set can include subscriber features such as profile data, usage