Users may construct manageable, and reusable code by linking keywords to specific actions or features.
cases while at the same time raising customer expectations. Best-effort service is a thing of the past. To meet and monetize the potential of 5G and the wide range of use cases it enables, operators will need a strategic approach to testing and monitoring that blends established testing methodologies for 5G smartphones, radio access, and core network with the new automation processes that are making their way into 5G network design, launch, and operation.
As 5G is rolled out and new services are enabled, it will be essential for operators to test, monitor, and benchmark 5G QoS for their NSA and SA deployments, as well as check throughput, latency, and the performance of EPS fallback for services as they move from 5GNR to LTE. Furthermore, as they transition to SA deployments, they will need to manage a more complex virtualized network core, create and monitor SLAs for multiple network slices, and meet the performance requirements of consumers, IoT and industry.
Another advantage of implementing an automation framework is the freedom it provides in developing automation scenarios. This is accomplished by supplying low-level building blocks that may be used to create a variety of automation jobs using simple keyword-driven scripting. Users may construct manageable, scalable, and reusable code by linking keywords to specific actions or features.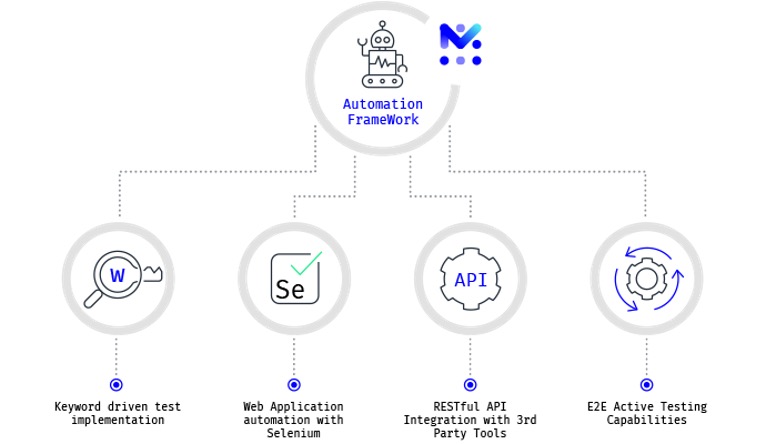 Figure 2: Automation framework
click to enlarge

It will be imperative for operators to understand the end-to-end service, from the core network, radio access, and down to the device. An active, end-to-end testing suite that tests, monitors, troubleshoots, and benchmarks all these services 24/7 with scalability in mind will ensure an operator successfully evolves as 5G technology progresses.
GSMA Intelligence estimates that carriers will make 5G investments worth more than $1 trillion worldwide between 2018 and 2025. Key to monetizing and achieving their ROI is ensuring that they deliver the quality of experience and service that will take 5G from a "nice to have" to a mission-critical service. This is only possible with an agile network that can scale up and down as required, spin up new services and network slices quickly, and is in tune with how services and applications are performing. To achieve this, automation—underpinning functions such as testing and monitoring and in the form of CI/CD frameworks—must be a key consideration for carriers when determining their quality assurance approach. The complexity of the network and the demands and expectations of your customers mean that this will become the norm, but carriers can take advantage of the benefits today.